Ambassador has put extra vehicles on the road that are freshly painted in new black-and-yellow taxi livery and which promote the new phone number:
250-941-TAXI (8294)
Ambassador is now able to pick up people who hail or flag from the street, respond to immediate calls for service, and charge metered rates for journeys, while still offering pre-arranged journeys, tours and limo services at posted rates.
Our two licensed taxis are actually seven-seat vans, one of them fully accessible for wheelchair users and scooters thanks to flip seats and a tail lift. Whether it's a taxi for one person or seven, we're ready to respond – and with 14 licensed drivers we can offer round-the-clock service seven days a week.
The two super-cabs are both metered using rates fixed by the PTB. Obviously traffic conditions impact the time taken for any journey, which is recorded by the meter. Typically a Courtenay-Comox Valley Airport run costs about $25. With Ambassadors unique "hybrid" license we are able to utilize our shuttle vehicles and offer guests going to further points such as Port Alberni, Campbell River or Parksville (to name a few), much cheaper flat rates than a typical Taxi rate.
This, ultimately provides the guests with the best possible price option for wherever their journey takes them.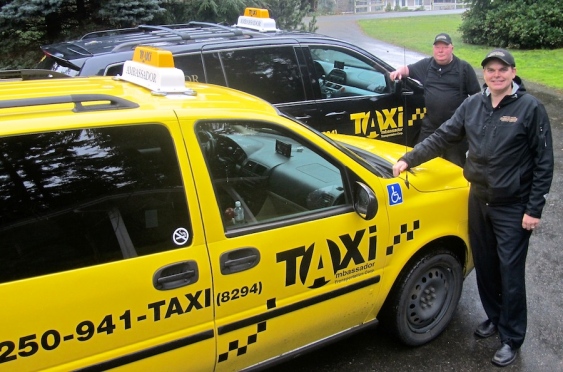 As part of our continuing efforts to bring the best service to the Comox Valley we have added an accessible van to our fleet.